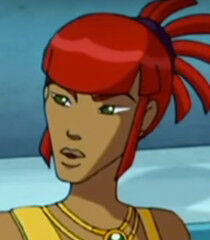 Lun-Zia is a Wamba and a current defender for the Snow Kids in the Paradisian Tournament.
History
Lun-Zia was a Wambas defender and player. On Paradisia, she was spotted by Aarch and Artegor, who admired her skills and invited her to join the Snow Kids, an offer she accepted.
Rocket had a crush on Lun-Zia, but it threatened his relationship with Tia. In the Qualification Rounds against the Pirates, they have a terrible lack of communication, which causes a goal for the Pirates. After Micro-Ice passes to her, she collides with a Pirate and is fouled. She then gives the ball to Tia, who does an exellent penalty kick to finish off the Pirates 3-2.
She later sees Rocket and Tia hugging, and she looks mysterious, as if she had a crush on Rocket too.